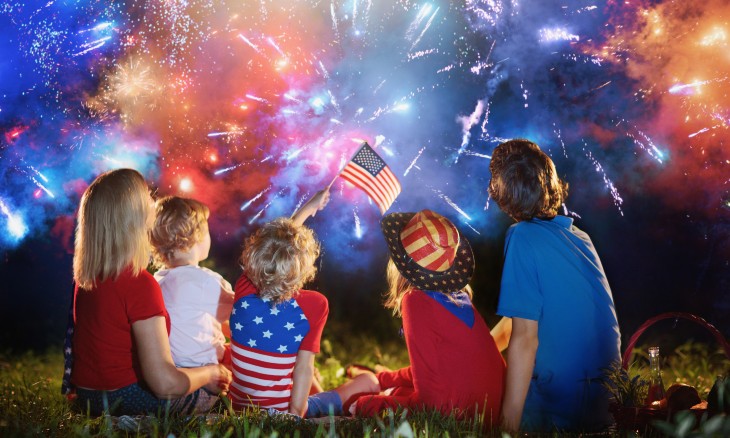 Freedom & Responsibility: How to Have a Safe Fourth of July
A true patriotic holiday celebration is almost here— Independence Day. Every year, honoring America's birth as an independent nation has become a benchmark of summer. Otherwise known as the Fourth of July, it is often celebrated with pool parties, backyard barbeques, beach days and firework nights.

While these things are all wonderful, they can often come with avoidable dangers according to Bayhealth Emergency Medicine Physician Courtney Wilczynski, DO. To prevent landing yourself in the ER this summer, here are 6 main tips from Dr. Wilczynski to help you and yours enjoy a safe Fourth of July:
Grilling safety— It is critical to follow instructions on the grill to prevent burns and other fire-related injuries, not only for the individual grilling, but for all that attend the gathering. Use specific tools, such as long-handled spatulas, intended for grilling. "Also, it's best never to leave the grill unattended, so that pets and children are not harmed," shared Dr. Wilczynski. Never grill indoors or use the grill close by to the house, or anything else that could catch fire.


Heat safety— Fourth of July is often spent outdoors, with a lot of hours in the sun. Dr. Wilczynski said, "Make sure to drink plenty of water throughout the day and give yourself breaks in the shade; this can help prevent heat-related injuries like dehydration, sunburn or heat stroke." Additionally, a few great summer accessories to help protect you from the strong UV rays would be wearing sunscreen, a hat, and sunglasses.


Water safety— Communicate as a family about boundaries when it comes to water; whether you're at the pool, the lake, or the ocean. Water is powerful and children need to respect the dangers that come along with the fun. Dr. Wilczynski said, "Keep a close eye and supervise children, especially those that aren't strong swimmers yet." If a lifeguard isn't present, designating someone specifically to keep watch during water activities is necessary. "Put down your cell phone. Your attention must be on the safety of your children. Things can happen in a blink of an eye."


Fireworks and sparkler safety— Use of fireworks should always be done in the proper location, away from other people, while following the guidelines provided. Dr. Wilczynski shared, "Fireworks should never be used by someone consuming alcohol." Wear eye protection and keep water close by to put out any unintended sparks. Sparkler safety is a must – especially with small children using them. Only light one at a time, have the child hold the sparkler away from their body, and have them immediately dispose of them in a bucket of water to prevent them from touching the burnt end of the sparkler.


Alcohol safety— Plan ahead with a designated driver if you are going to drink at a gathering. "Continue to stay hydrated with water since alcohol is a diuretic, which means your body is removing fluids from your system," said Dr. Wilczynski. Alcohol can be used responsibly in moderation. Since alcohol impairs your judgement, take this into consideration prior to making any decisions.


Driving safety – It seems that everyone is in a rush to get somewhere. Being safe behind the wheel means you and the other families will arrive alive. Be smart about your speed, avoid distractions, don't weave in and out of traffic, be patient, and check your blind spots. "Accidents happen, but we should do our best to avoid them," said Dr. Wilczynski. "Don't get behind the wheel if you're tired or have been drinking, and please slow down. Getting to the beach five minutes early isn't worth risking a life."
Intentionality and awareness are the key to avoiding many of the injuries seen in the ER over the summer, especially around the Fourth of July. Apply these tips to have a healthy, fun and safe Independence Day. However, if you or a family member, friend or neighbor were to require emergency or immediate care, Bayhealth is always prepared. Visit Bayhealth.org/Be-Sure to learn about Bayhealth's Emergency Departments and Walk-in Medical Care.
Share This With Your Friends