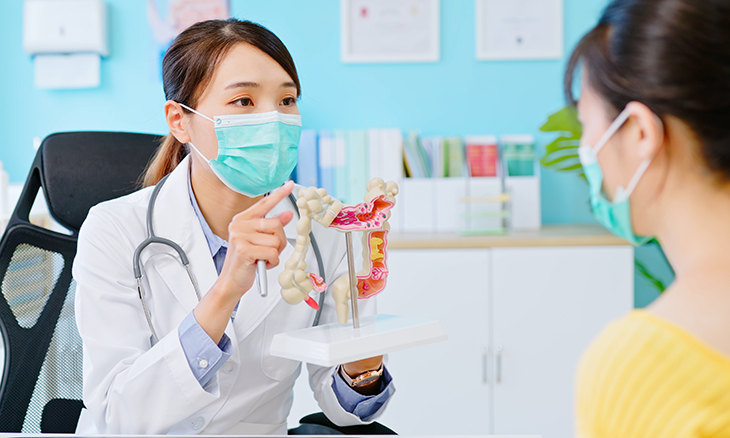 Cancer Care, Healthy Aging
Trust Your Gut: Prevent Colon Cancer
Colorectal cancer is the second most diagnosed cancer in men and women in the U.S. combined. Bayhealth Colorectal and General Surgeon Assar Rather, MD, FACS, FASCRS, says that "prevention is better than cure." Knowing the signs and symptoms means early detection and less invasive treatment options.
In recent years, the recommended age for regular screenings has lowered from age 50 to 45 for those at average risk of colorectal cancer. Screenings may be done earlier if a person has a family medical history of cancer.
Dr. Rather says the most common symptoms of colorectal cancer he sees in his patients are unexplained weight loss, change in bowel habits, and persistent abdominal discomfort. "These are just a few among the many symptoms that could be a sign of something more serious," he said.
There are many screening options, but the gold standard in colorectal cancer screenings is a colonoscopy. "Anyone with symptoms or a family history should have a colonoscopy," said Dr. Rather. At Bayhealth, colonoscopies can be done by general surgeons, colorectal surgeons, or gastroenterologists.
Other screening options for those at lower risk include stool DNA, blood tests, and Cologuard® which reveals blood in the stool and changes in cells.
Another preventive option Bayhealth offers is genetic testing and genetic counseling. Dr. Rather says that 5-10% of Bayhealth patients who are diagnosed with colorectal cancer have a family history. "We have a comprehensive evaluation to rule out familial disposition to colorectal cancer, including genetic counseling and genetic testing."
"You don't need to push off your screenings because you are worried it may be painful or uncomfortable," explained Dr. Rather. "There have been changes in methods and preparation for colonoscopies in recent years. But sometimes you must deal with discomfort to prevent something much worse from happening."
Visit Bayhealth.org/Get-Screened to learn more about screenings. If you need help setting up a colorectal cancer screening, call Bayhealth Colorectal Screening Nurse Navigator Judy Giddens at 302-744-6098.
Share This With Your Friends