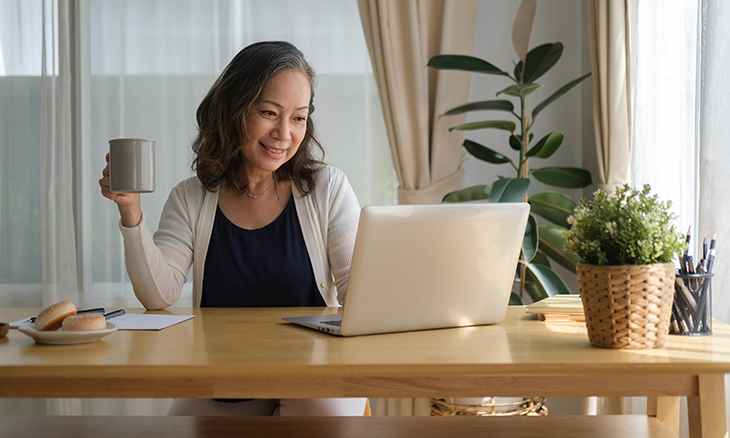 Healthy Aging, Women's Health
Importance of Postmenopausal Health
Many women who are going through or have already experienced menopause may wonder what to expect next. At Bayhealth, we have a trusted team of specialists in Women's and Children's Health dedicated to caring for female community members at every stage of life. When a woman's body stops producing estrogen and she has not had a period in 12 consecutive months, she enters the next phase known as postmenopause. Amanda Celaschi, DO, encourages women to embrace this stage of life while also taking control of their health.

A positive aspect of postmenopause is that the physical and emotional effects of the reproductive years, which can be described as a nuisance at best and debilitating at worst, are usually gone for good. There are, however, some health implications that come with lower estrogen levels after menopause since the ovaries are no longer producing these hormones, explained Dr. Celaschi.
For example, postmenopausal women are at increased risk of bone fractures, heart attacks and strokes. "The decreased levels of estrogen can lead to a more rapid loss of bone. Estrogen is also protective against heart attacks and strokes, so that is also why risk of these conditions increases."
She adds that systemic hormone replacement therapy may be an option for the treatment of hot flashes, night sweats and vulvovaginal dryness. Overall it is safe, she said, but there are some exceptions based on previous medical history so it is best to discuss this therapy with your physician.

There are other health considerations for women during postmenopause, many of which are related to the natural aging process. Cholesterol levels and blood pressure tend to increase for many women at this time. This is partly due to people being less active as they get older. Dr. Celaschi stresses the importance of eating a balanced diet and getting enough calcium and vitamin D to help maintain strong bones. "Weight-bearing exercise improves bone health, and exercise in general is protective against development of cardiovascular disease as you age," she said.

Dr. Celaschi emphasized that there are still important preventative health measures to take in menopause and beyond. Post-menopausal women should continue to see their OB-GYN regularly. It is recommended that women continue Pap smears until the age of 65 and mammograms until at least 75.

"There are also a lot of natural changes that occur during this time that are important to discuss with your OB-GYN such as vaginal dryness, pelvic organ prolapse, and urinary and fecal incontinence," Dr. Celaschi said. "These are the golden years for many women and there are treatments for these conditions that can lead to an improved quality of life. This is not the time to stop having sex or minimize your physical activity—let us help you!"

Visit Bayhealth.org/Find-a-Doctor to be matched with an OB-GYN doctor or other specialist to suit your needs.
Share This With Your Friends