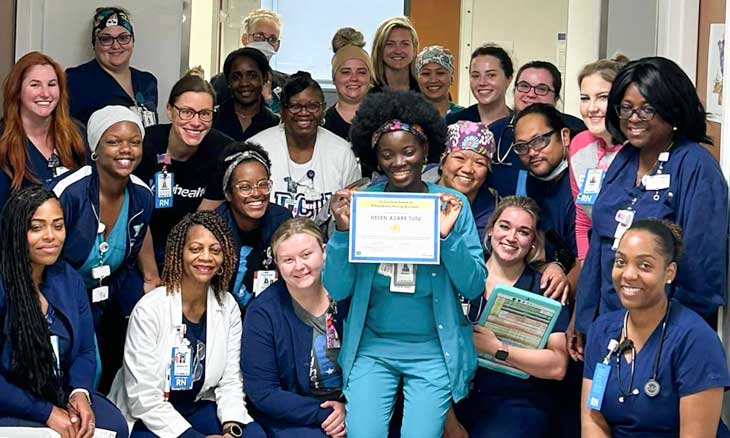 Asare Tutu Earns a Sunshine Award
Thursday, October 12, 2023
|
Awards & Recognitions
Bayhealth employees know that working together provides the best experience not only for patients, but for team members. Helen Aasare Tutu, a nursing assistant in Bayhealth's Progressive Care Unit, demonstrates exemplary teamwork every day. This dedication to her team is what earned her a Sunshine Award.
The Sunshine Award recognizes Bayhealth's extraordinary nursing assistants and techs. This nationwide program originated at Guthrie County Hospital as an extension of the DAISY Award—as daisies need sunshine to grow.
Asare Tutu's attitude makes all the difference for her peers, according to the coworker who nominated her for the award.
"Helen is an actual ray of sunshine because she is so kind to all who encounter her," the coworker said. "She never complains and is so positive."
Never one to leave her team hanging, Asare Tutu is always willing to come in on her days off, whether to help with staffing issues, or to support special events like baby showers or holiday celebrations.
One night, when the unit was experiencing a staffing shortage, she assisted all of the nursing assistants and nurses complete their tasks.
"She must have seen all 32 patients that night. She helped bathe patients, get blood sugars, and checked on the wellbeing of her coworkers all while providing excellent care for her own patients," her coworker said.
Asare Tutu is also well-known among her patients, specifically for giving "spa-like baths," which she routinely receives compliments on. She is also known for providing culturally competent care to every patient she encounters.
Visit
Bayhealth.org/Sunshine-Award
to nominate a deserving nursing assistant or tech.
Share This With Your Friends