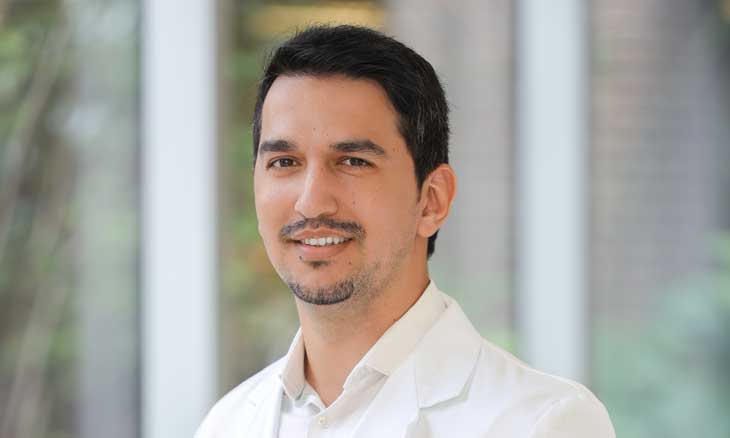 Pulmonologist and Critical Care Physician Joins Bayhealth
Thursday, October 19, 2023
|
Respiratory Care
Committed to growing access to specialty care locally, Bayhealth has added another physician to its newest practice in Dover. Board-certified
Pulmonologist and Critical Care
Physician Bilal Bangash, MD, joins Rabab Nasim, MD, and Syed Nazeer Mahmood, MD, at the Bayhealth Pulmonary and Critical Care practice. Dr. Bangash is accepting new patients needing care for various conditions and disorders of the respiratory system, including chronic obstructive pulmonary disease (COPD) and asthma.
Bayhealth Pulmonary and Critical Care is part of Bayhealth Medical Group, a partnership of highly trained physicians and advanced practice clinicians, their staff, and an administrative support team that operates medical offices throughout central and southern Delaware.
"We know that the needs for respiratory care in our area continue to grow so building a new practice in this specialty has been a long-term goal for us," said Bayhealth Vice President, Physician Services and Clinical Integration Lawrence Ward, MD, MPH, FACP. "We're thrilled that with the addition of Dr. Bangash we now have three talented physicians available to offer exceptional care for community members who suffer from COPD, lung disease, complications of lung cancer, and other conditions impacting the respiratory system."
Dr. Bangash comes to Bayhealth after his fellowship in pulmonary and critical care medicine at Spectrum Health and Michigan State University in Grand Rapids, Michigan. Previously he completed two internal medicine residencies—one at Bridgeport Hospital and Yale New Haven Health in Bridgeport, Connecticut and another at the Royal College of Physicians of Ireland in Sligo, Ireland. He earned his medical degree from Quaid-e-Azam Medical College in Bahawalpur, Pakistan.
Dr. Bangash also served as a clinical instructor during his fellowship at Michigan State University and his residency at Yale New Haven Medical School, where he earned the Vincent Andriole Teaching Award for best resident teacher. Additionally, he was a recipient of the WOW recognition for exceptional patient care during his time at Spectrum Health.
Board certified by the American Board of Internal Medicine, Dr. Bangash is a member of the American Thoracic Society and the Society of Critical Care Medicine. In addition to seeing patients with a range of respiratory conditions in the practice setting and a clinical interest in lung cancer screening, he also cares for patients with serious and life-threatening conditions in the intensive care unit (ICU) at Bayhealth Hospital, Kent Campus.
To schedule an appointment with Dr. Bangash, please call 302-608-5299. Visit
Bayhealth.org/Medical-Group
to learn more about the Bayhealth Pulmonary and Critical Care practice in Dover.
Share This With Your Friends