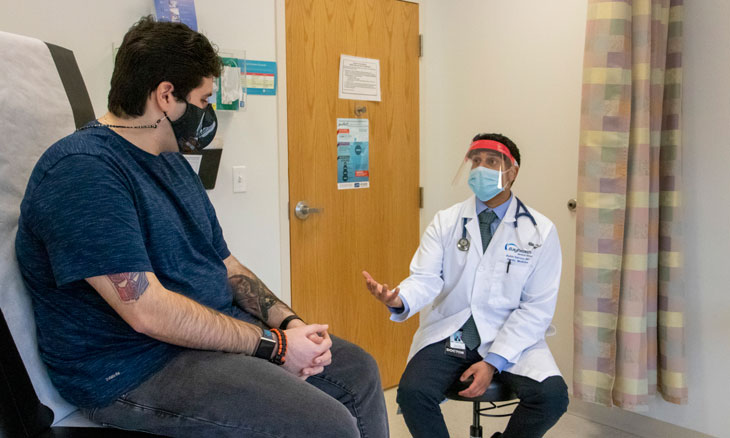 A Bond Between a Doctor and Patient with Autism
When John Filomeno travels along U.S. 13 with his parents, he's quite excited to see a familiar face on a billboard: it's his doctor,
Rohin Saroya, MD
. "We all wave," says Mary Thiel, his mother. Dr. Saroya is a primary care physician with Bayhealth Primary Care, Smyrna.
For Filomeno, 22, and his family, the quality of their lives has improved, thanks to Dr. Saroya, Mrs. Thiel said. Filomeno is autistic and deals with anxiety, but he, his family, and Dr. Saroya are pleased with treatment outcomes in just a few months. "John and his entire family have been great, so it's been rewarding seeing the improvement," Dr. Saroya said.
John and his family moved to the Dover area from New Jersey about two years ago, said Mrs. Thiel, noting the resources for autistic individuals were not available near their previous home. "My husband (Brien) did a lot of research, and we visited the community before we moved. We went to an open house to meet the people who lived here. There are other autistic kids here. Everything has been so much easier here; Delaware is very autism friendly," she said, noting that she was connected to the services in Delaware they needed with a phone call.
The family also connected with Bayhealth Primary Care, Smyrna soon after their move. "I love that office; we all do, me, my husband, and my son. We all go to Dr. Saroya. He is very easy to talk to and very thorough." During the ongoing COVID-19 pandemic, she and John recognized that he was feeling anxious and becoming withdrawn. "He wanted to go to the doctor for help," Mrs. Thiel said. Although she was relieved, there was some initial concern about her son's shyness. "My son doesn't like to talk."
Johnny – as she calls him – obviously feels safe and comfortable talking with Dr. Saroya and the office staff, and she credits Dr. Saroya for the positive changes she sees. A towering young adult, John's arms are inked with intricate tattoos revealing his fondness for transformers and Star Wars, something Dr. Saroya and this patient can discuss -- in addition to health issues. "He's very patient oriented. He took the time to show us a website for a mental health counselor. When he asked my son if he wanted to talk in private, Johnny said yes and talked to him with the door closed. The rapport he was able to make with a kid with autism is so hard; he just won him over. It's amazing. No kid wants to go to the doctor, but Johnny does, and that's trust," she said.
The results speak for themselves. "The treatment he's [Dr. Saroya] has been giving works; it's like night and day. Johnny has been talking, smiling, laughing, all from the treatment. He's going back to the way he was."
Visit
Bayhealth.org/Find-A-Doctor
to find a primary care physician to meet your needs.
Share This With Your Friends