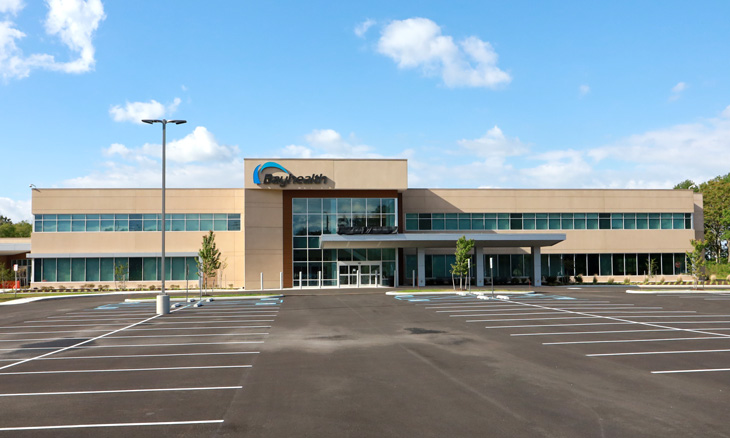 Share This With Your Friends
Bayhealth Orthopedics, Total Care - Milton
Address
18383 Hudson Road
Milton, DE 19968
Get Directions
Hours:
Open today from 8:00 a.m. to 4:30 p.m.
Share This With Your Friends
Overview
Like its name implies, Bayhealth Total Care is a comprehensive healthcare facility designed to serve the greater Milton, Delaware region. Bayhealth Total Care features a free-standing, hybrid emergency and urgent care center and provides access to many healthcare specialties and services including primary care, heart, orthopedics, neurosciences, urology, palliative care and OB-GYN offices. It also features a state-of-the-art diagnostic and imaging center.
Orthopedic and sports medicine experts
Bayhealth Orthopedics is home to a dynamic and expert team of orthopedic specialists. From offering joint replacement and shoulder repair to sports medicine clinics and procedures to repair ACL tears, damaged cartilage and other sports injuries – our physicians have the skill to do it all, close to home. As part of the Bayhealth Medical Group, Bayhealth Orthopedics has access to a full range of services available through Bayhealth, including its affiliation with Penn Medicine Orthopedics.
Bayhealth Orthopedics treats the following conditions:
Geriatric hip fractures
Arthritic hips and knees

Muscle-sparing anterior total hip replacement
Total hip replacement
Partial knee replacement
Total knee replacement

Shoulder conditions

Rotator cuff repair
Reverse total shoulder replacement
Total shoulder replacement

Hand injuries

Carpal tunnel syndrome treatment and surgery
Complex fractures
Tendon repair
Dupuytren's contracture

Sports injuries

Rotator cuff repair
ACL reconstruction
Torn bicep repair
Meniscus tear
Cartilage repair/regeneration
Achilles tendon repair
Complex fractures of the hand
To schedule an appointment, call 302-730-4366.
Insurances
Bayhealth Orthopedics wants you to focus on your health instead of navigating the world of insurance. As part of Bayhealth Medical Group, we accept most major health plans, as well as Medicare and Medicaid. See the complete list of accepted plans.

At your visit, applicable copayments and fees for services not covered by insurance will be collected. Please call our office at 302-730-4366, if you have any questions.
Hours:
Monday
8:00 a.m. to 4:30 p.m.
Tuesday
8:00 a.m. to 4:30 p.m.
Wednesday
8:00 a.m. to 4:30 p.m.
Thursday
8:00 a.m. to 4:30 p.m.
Friday
8:00 a.m. to 4:30 p.m.
Services at this Location
Share This With Your Friends