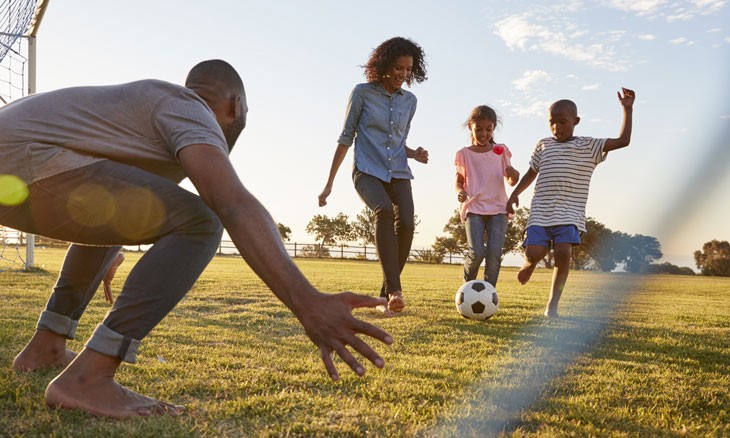 How to Stay Active as a Family
For today's busy families, leisure time is a valuable commodity. Parents and children alike can find it challenging to balance work, school and scheduled events. Between it all, staying physically active on a weekly basis should be a priority, given the many health benefits it brings. Paul K. Pulchny, DO, of Bayhealth Primary Care, Milton advises families to make it a habit to limit sedentary activities and get moving, even if it's something as simple as taking a walk around the neighborhood.

Parents should maintain and model an active lifestyle to ensure that healthy behaviors are sustained in their children, no matter their age. Younger children often have a natural inclination to go outside and run around, and they have boundless energy to boot, so joining them in their play is an easy way for many parents to stay physically active, Dr. Pulchny explains.

For children and particularly adolescents, excessive screen time has become an epidemic and thus, is a significant barrier to staying active as a family. The American Academy of Pediatrics (AAP) recommends that for children ages 2 to 5, screen time should be high-quality programming and one hour or less per day. For ages 6 and over, the AAP suggests having consistent limits on the amount and types of media consumed, so that it does not interfere with a healthy regimen of appropriate sleep and physical activity. "The same holds true for parents," reminds Dr. Pulchny. "We are not immune to the effects of electronics ourselves." Setting ground rules that apply to the whole family is an important step in staying active and healthy.

Dr. Pulchny shares some valuable tips to help make staying active a family affair:
Take advantage of the great outdoors by exploring local attractions. "Delaware is blessed with plenty of outdoor opportunities--parks if you're up north, and as you get further south there are the beaches, boardwalks and trails where you can walk, run or bike. There is no excuse here in Delaware to find something to keep you active, especially with the weather being nicer," says Dr. Pulchny.
Parents may want to get their children involved in their own exercise interests; perhaps they can join mom or dad on their daily jog.
Staying active while at children's activities can help parents get their exercise in; for example, walking around the field at soccer practice.
Set a time in the evening to turn off all electronic devices and do something together as a family.
Local fitness clubs offer many family recreational options year-round, including group classes or swimming. But staying active as a family doesn't need to involve a facility or membership fees.
Going for a hike outside, playing catch in the yard, or riding bikes are all great activities for families to incorporate into their routines.
Dr. Pulchny advises that while being outside helps promote an active lifestyle, it's still important to take precautions. Sunscreen with SPF 15 or higher and a large-brimmed hat provide necessary protection for daytime outings. It is best to avoid the peak sun times and enjoy outdoor activities in the early morning, late afternoon and early evening.

Visit Bayhealth Find a Doctor page or call 1-866-BAY-DOCS (229-3627) to find a doctor to help you and your family in your wellness goals.
Share This With Your Friends