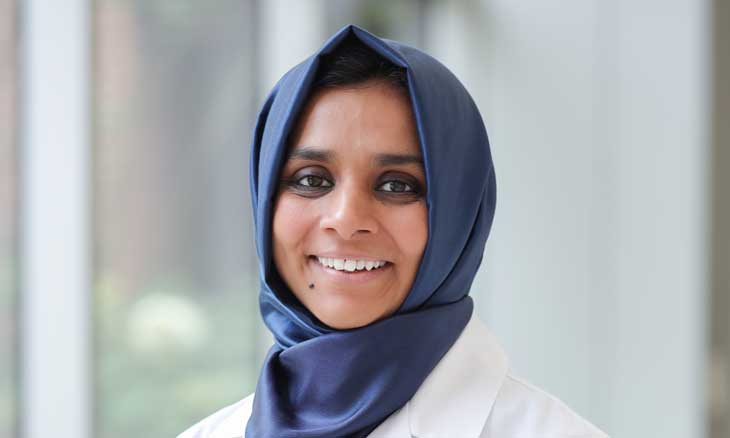 Bayhealth Welcomes New Pulmonologist and Critical Care Physician
Thursday, October 19, 2023
|
Respiratory Care
In expanding upon its specialty care offerings to our community, Bayhealth is pleased to welcome Board-certified
Pulmonologist and Critical Care
Physician Rabab Nasim, MD. Dr. Nasim joins Syed Nazeer Mahmood, MD, and Bilal Bangash, MD, in the Bayhealth Pulmonary and Critical Care practice located in Dover. She offers care for a range of lung diseases and conditions and is currently accepting new patients.
Bayhealth Pulmonary and Critical Care is part of Bayhealth Medical Group, a partnership of highly trained physicians and advanced practice clinicians, their staff, and an administrative support team that operates medical offices throughout central and southern Delaware.
"We're proud to have a growing team of specialists to treat many different kinds of pulmonary conditions and critical illnesses, and we are so glad that Dr. Nasim has joined us," said Bayhealth Vice President, Physician Services and Clinical Integration Lawrence Ward, MD, MPH, FACP. "We know that she and the practice staff will provide compassionate and thorough care to improve the health of many community members who suffer from COPD, lung disease, and other respiratory problems."
After earning her medical degree from Jawaharlal Nehru Medical College, K.L.E. University in Belgaum, India, Dr. Nasim came to the U.S. to complete her internal medicine residency at Cook County Hospital in Chicago, Illinois. She went on to complete a fellowship in pulmonary and critical care medicine at the University of Wisconsin, in Madison, Wisconsin.
Dr. Nasim is board certified in pulmonary disease by the American Board of Internal Medicine. She is also a member of the American Thoracic Society and the Society of Critical Care Medicine. She provides specialized care to hospitalized patients with serious and life-threatening conditions in the intensive care unit (ICU) at Bayhealth Hospital, Kent Campus. With her expertise in pulmonary medicine, she offers outpatient care and treatments for individuals with a variety of respiratory disorders, including asthma, COPD, and interstitial lung disease.
Visit
Bayhealth.org/Medical-Group
to learn more about the Bayhealth Pulmonary and Critical Care practice in Dover. To make an appointment with Dr. Nasim please call 302- 608-5299.
Share This With Your Friends