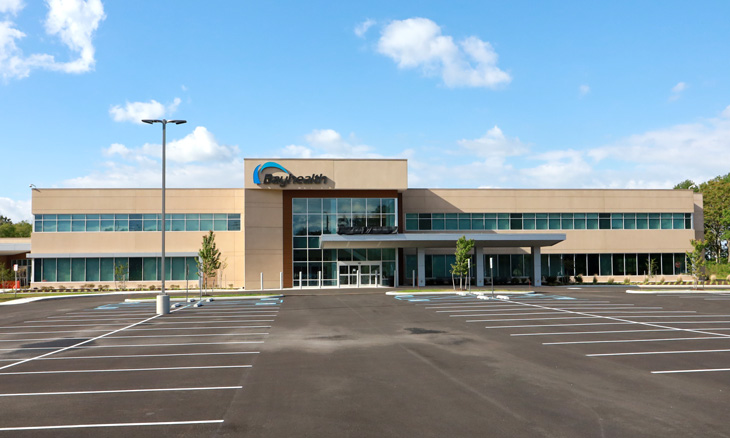 Share This With Your Friends
Bayhealth Women's Care, Total Care - Milton
Address
18383 Hudson Road
Milton, DE 19968
Get Directions
Hours:
Open today from 8:00 a.m. to 4:30 p.m.
Share This With Your Friends
Overview
Like its name implies, Bayhealth Total Care is a comprehensive healthcare facility designed to serve the greater Milton, Delaware region. Bayhealth Total Care features a free-standing, hybrid emergency and urgent care center and provides access to many healthcare specialties and services including primary care, heart, orthopedics, neurosciences, urology, palliative care and OB-GYN offices. It also features a state-of-the-art diagnostic and imaging center.
Bayhealth Women's Care for all stages of life
Our friendly and knowledgeable staff at Bayhealth Women's Care provides warmth and compassion to women during every stage of life. Whether you are planning a pregnancy, are seeking treatment for pre-cancerous conditions, or are perimenopausal or menopausal and need symptom control, our OB/GYNs offer comprehensive care. We provide the ongoing support and education women need to manage the changes that occur during their lifetime.
Bayhealth Women's Care provides the following services:
Well woman care
Family planning
Prenatal care
Postpartum care
Sexually transmitted disease treatment and management
Screening and treatment of pre-cancerous and cancerous conditions
Perimenopausal and menopausal evaluation and symptom control
Osteoporosis screening and counseling
To schedule an appointment, call 302-424-6511.
OB Hospitalists
When you're ready to deliver, so are we
When you choose one of our Women's Care providers to care for you during pregnancy, you get the added benefit of seven board-certified OB Hospitalists. Our OB/GYNs work with OB Hospitalists Group, LLC at Bayhealth Hospital, Sussex Campus to ensure that an experienced obstetrician is at the ready 24 hours a day, seven days a week to deliver your baby.

Sometimes your dedicated obstetrician may already be delivering a baby, or is tied up in the office. Having an OB hospitalist program means pregnant women can be confident that an experienced obstetrician will be delivering her baby, even if her own physician can't be present.

Hospitalist is a term for physicians who specialize in caring for patients in the hospital. OB Hospitalist Group, LLC is nationally renowned for the development, staffing and management of hospital-based OB/GYN practices. The board-certified OB/GYN physicians of the OB Hospitalist Group will provide 24/7 in-house coverage of Women's and Children's Services and in the OB Emergency Room at Bayhealth Hospital, Sussex Campus.
Baby-Friendly™ birth facility
Our Women's Care obstetricians deliver babies at Bayhealth Hospital, Sussex Campus – a Baby-Friendly™ hospital. The hospital is among an exclusive group of around 200 hospitals and birth centers, out of 3,000 facilities in the United States, who have achieved Baby-Friendly status.

Since 2010, the hospital has been incorporating Baby-Friendly's "10 Steps to Successful Breastfeeding," designed to provide women with information, confidence and skills needed to breastfeed. When a mother chooses to breastfeed, one of Bayhealth's International Board Certified Lactation Consultants works with the mother and newborn.

Baby-Friendly USA, Inc. is the approving body in the United States for the Baby-Friendly Hospital Initiative (BFHI), a global program sponsored by the World Health Organization (WHO) and the United Nations Children's Fund (UNICEF). The initiative encourages and recognizes hospitals and birthing centers that offer an optimal level of care for breastfeeding mothers and their babies.
Insurances
Bayhealth Women's Care wants you to focus on your health instead of navigating the world of insurance. As part of Bayhealth Medical Group, we accept most major health plans, as well as Medicare and Medicaid. See the complete list of accepted plans.

At your visit, applicable copayments and fees for services not covered by insurance will be collected. Please call our office at 302-424-6511, if you have any questions.
Hours:
Monday
8:00 a.m. to 4:30 p.m.
Tuesday
8:00 a.m. to 4:30 p.m.
Wednesday
8:00 a.m. to 4:30 p.m.
Thursday
8:00 a.m. to 4:30 p.m.
Friday
8:00 a.m. to 4:30 p.m.
Services at this Location