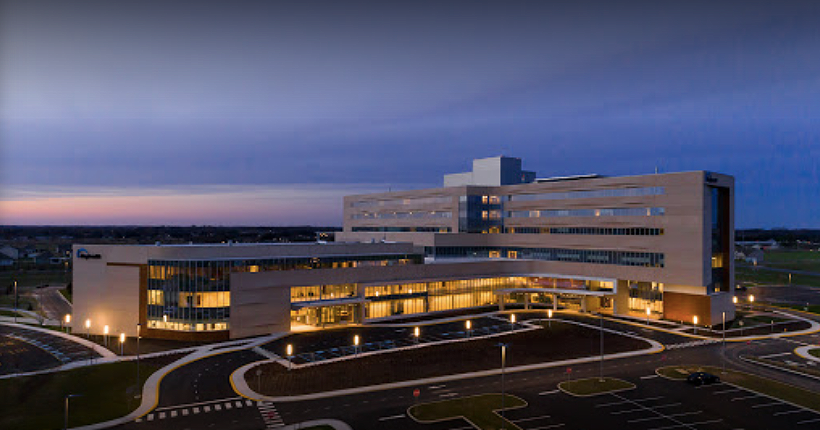 More Than a Hospital
In February, 2019 Bayhealth opened the newest, most technically sophisticated health campus in central and southern Delaware. The Bayhealth Sussex Campus is a 440,000 square foot facility that offers comprehensive out-patient services that include cancer care and diagnostic services as well as a modern, well-equipped hospital with 128 all private in-patient rooms, eight surgical suites, an expanded Emergency/Trauma unit, and much more.
The Bayhealth Sussex Campus was designed to be "more than a hospital." The 200+ acres on the site will allow Bayhealth to bring comprehensive healthcare to our surrounding communities.
Bayhealth's first step in realizing this vision was to expand the Bayhealth Sussex Campus to include Nemours Children's Health System.
Nemours Children's Health System, a nationally renowned pediatric health care system, currently serves thousands in Kent and Sussex County through A.I. duPont Hospital for Children (Wilmington, DE) and its pediatric primary care offices in Dover, Milford, Seaford, and Millsboro.
In 2018 alone, Nemours served over 13,000 unique patients in Kent County and over 16,000 unique patients in Sussex County. Nemours is committed to expanding service offerings in southern Delaware to better meet the needs of more children and improve health outcomes.
Better Together
When considering locations to house this site in southern Delaware, Nemours selected the Bayhealth Sussex Campus.
In addition to being a new home for its Milford Primary Care office, this site will host expanded pediatric specialty care services, and be outfitted for pediatric urgent care. Nemours has a similar specialty care satellite location in Deptford, NJ.
This partnership of two strong, well-regarded health care organizations will continue to revolutionize patient care in our area.
Bayhealth is building and will own a three story, state-of-the-art facility that is directly adjacent to our Bayhealth Sussex Campus. This facility will be the new home of, among other things, the first Nemours specialty pediatric clinic of its kind south of the canal.
In addition to the services provided by Nemours, proximity to Bayhealth provides many advantages to young patients and their families.
Nemours patients will utilize some of the diagnostic imaging services within the Bayhealth Sussex Campus.
When a child needs to be transported by helicopter to Nemours/A.I. duPont Children's Hospital in Wilmington, they will depart from the helipad located on the roof of our Bayhealth Sussex Hospital.
Bayhealth physicians and caregivers will offer OB/GYN as well as Maternal and Fetal Medicine services on the upper floors of the Nemours medical office building. So, expecting mothers will be cared for in the same building where they and their children will be cared for as future years go by.
Bayhealth primary care and other physicians will also practice in the Nemours building, easing the transition between physicians as patients age and increasing the communication among physicians.
Both Nemours and Bayhealth utilize the same premier electronic medical record system, which will further improve communication between physicians.
Bayhealth will also continue to care for patients of all ages, and at any time of the day or night, in our Emergency/Trauma unit.
The location just off Route 1, with easy access for those coming from just about anywhere in central and southern Delaware, is convenient for patients and their families any time of the year.
Ample parking is another valued feature of the Bayhealth Sussex Campus site.
Investing in the Community
The financial commitment of Bayhealth and Anchor Health Properties to build the facility is at least $22 million.
Nemours duPont Pediatrics, Sussex Campus will open to patients in November 2020. This site is mission based for Nemours.
Nemours duPont Pediatrics, Sussex Campus located within the Bayhealth Sussex Campus will provide central and southern Delaware families access to the highest quality care from pediatric specialists close to home and will reduce travel for families when children are in need of specialty care.
This same medical office building will also allow Bayhealth to locate more specialty physician practices in one convenient location to meet the medical needs of our community.
Nemours and Bayhealth are in partnership to further engage the community through philanthropy, with the goal of raising critical funds to support the building as well as the expanded pediatric services and programs that Nemours will provide within it.
Nemours will raise funds toward its expanded pediatric services, programs and medical equipment; Bayhealth will raise funds for capital expenses toward the medical office building.