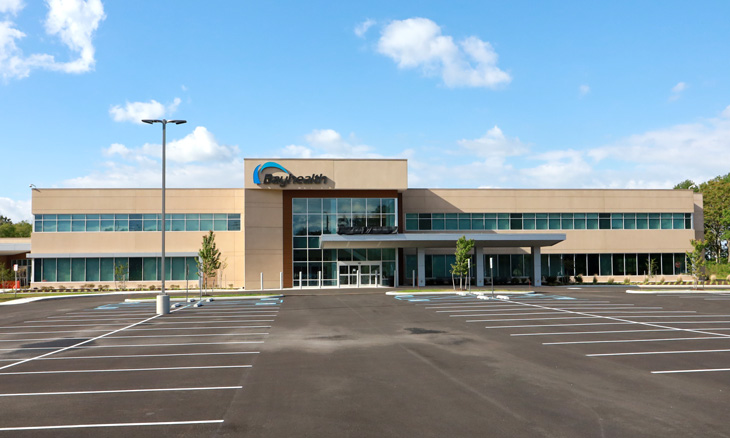 Share This With Your Friends
Bayhealth Cardiovascular & Thoracic Surgical Associates, Total Care - Milton
Share This With Your Friends
Overview
Like its name implies, Bayhealth Total Care is a comprehensive healthcare facility designed to serve the greater Milton, Delaware region. Bayhealth Total Care features a free-standing, hybrid emergency and urgent care center and provides access to many healthcare specialties and services including primary care, heart, orthopedics, neurosciences, urology, palliative care and OB-GYN offices. It also features a state-of-the-art diagnostic and imaging center.
About Our Practice
Specializing in heart, thoracic, and vascular surgery, our dedicated team of experts at Cardiovascular and Thoracic Surgical Associates is committed to improving your quality of life. Our doctors operate on the heart, lungs, diaphragm, blood vessels and other organs in the chest in order to treat many different conditions. These highly-trained surgeons have come from leading medical programs to deliver the care you might expect at a major cardiac center but in a community hospital setting close to your home.
Cardiovascular and Thoracic Surgical Associates offers a personalized and patient-centered approach, from diagnosis to post-surgical care, to put you on a path to recovery. With their expertise and the latest technologies available, our physicians can recommend and carry out the most appropriate treatment for you, whether it is a traditional surgery or minimally invasive technique, such as robotic surgery or TAVR. Some of the conditions commonly treated are:
Aneurysms
Carotid Stenosis
Congenital heart disorders
Coronary artery disease
Heart failure
Heart rhythm disorders
Heart valve disorders
Lower Extremity Vascular Conditions (PVD, PAD)
Lung cancer
Lung nodule/mass
Tumors of the chest wall, chest, and mediastinum
Ventricular assist device (VAD) implantation
To schedule an appointment, call 302-265-0515.
Insurances
Cardiovascular and Thoracic Surgical Associates wants you to focus on your health, instead of having to navigate the world of insurance. We accept most major health plans, as well as Medicare and Medicaid. See the complete list of accepted plans.

At your visit, applicable copayments and fees for services not covered by insurance will be collected. Please call our office at 302-265-0515 if you have any questions.
Services at this Location
Share This With Your Friends